Ampol Celebrates 1000th Rebranded Site in Goondiwindi, Queensland
Ampol Celebrates 1000th Rebranded Site in Goondiwindi, Queensland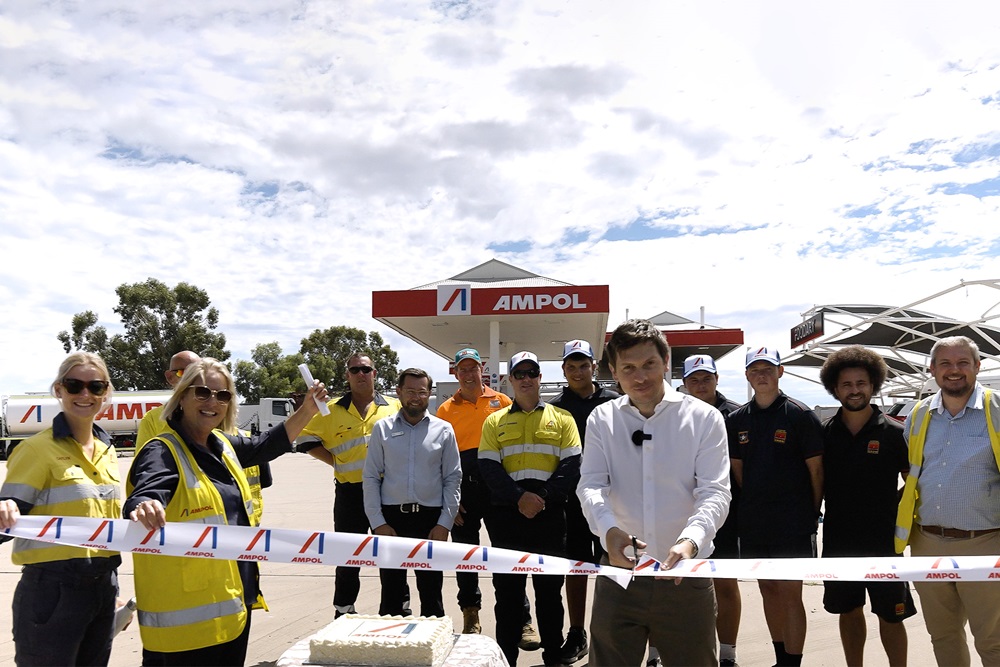 Ampol has today celebrated the rebranding of its 1000th retail site at Goondiwindi in Queensland.
The transition of the Goondiwindi truck stop and depot to the iconic Ampol brand is a major milestone in the national rebrand program which commenced in August 2020. The rebranding of the 1000th site in Goondiwindi follows the transition of three retail sites in Moree which were completed in the second half of 2021.
The milestone in Goondiwindi was celebrated onsite with local businesses, customers and community partners, acknowledging the important role regional communities and businesses play in Ampol's history and current operations. Ampol has a long and proud history across the Darling Downs region of Queensland and the North West Slopes region of New South Wales.
Ampol's first fuel pumps in regional Australia were installed in Moree in the late 1930s, supporting the then small Australian company's early expansion in a market dominated by major global oil companies. Today's truck stop in Goondiwindi serves approximately 160,000 customers each year and is a key site supporting local business and the transport industry in regional Queensland.
Ampol's Goondiwindi depot supplies Australian made fuel and lubricants to over 100 agricultural, transport, manufacturing, retail and light industrial customers embedded in the region's economy. Locally managed since the 1980s, with fuel and lubricants sourced from the Ampol refinery in Brisbane, the Ampol team in Goondiwindi support customers right across the region, extending to Inglewood, Moree, Mungindi and St George and driving almost 350,000 kilometres each year to reach customers where they need us.
Matthew Halliday, Ampol's Managing Director and Chief Executive Officer, said that while the revitalised Ampol looks a bit different to the Ampol of yesterday, the company's values and proposition for customers remain the same.
"Ampol remains a proud Australian company and customers can expect the same great customer service and high-quality products when they step into our rebranded stores, underpinned by our market-leading infrastructure and networks and commitment to playing a positive role in local economies and communities.
"We know all our customers are excited by Ampol's return, with these stores celebrating the best of our convenience offering through the Foodary and our unparalleled experience with premium fuels through our Amplify premium fuels range."
Andrew Galligan, Ampol's National Operations Manager for fuel distribution, said he was excited to mark the milestone in Goondiwindi given Ampol's significant presence and extensive infrastructure and operations across the region.
"We are proud to contribute to the ongoing success of regional economies and communities and the Darling Downs and North West Slopes regions remain important parts of our national operations. Our local team has deep links to community through our customer base and partnerships with community organisations. We look forward to continuing to serve the community for many years ahead."
Media contact: