Devonport Student Named Australia's Best All Rounder
Devonport Student Named Australia's Best All Rounder
Devonport – Wednesday 14 December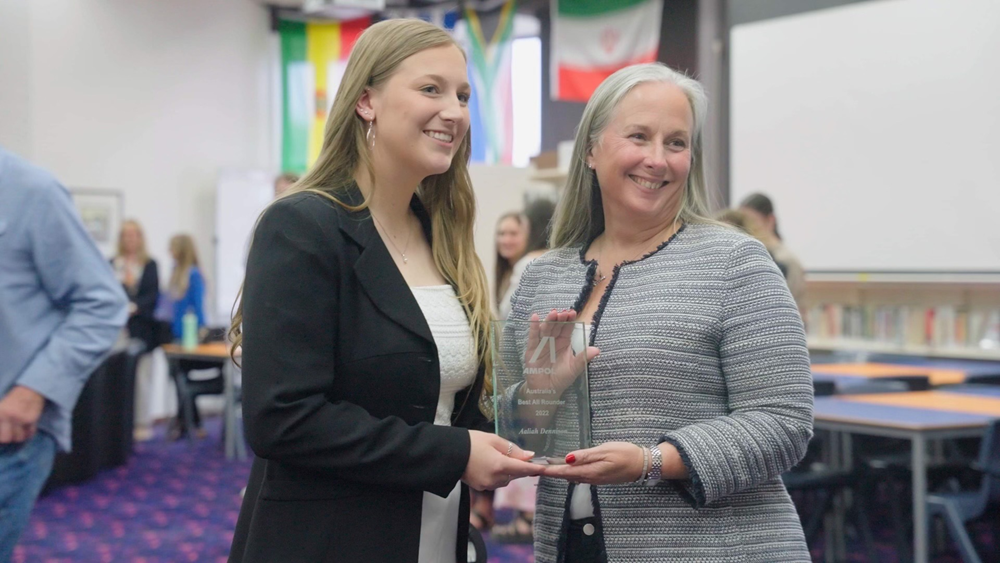 Ampol has today finalised its inaugural competition to identify Australia's best all-rounder with Aaliah Dennison from Devonport's Don College in Tasmania named the national winner.
This year is the 37th year Ampol has run its Best All Rounder Award program, with over 2,000 high schools nationally participating to recognise their best all-round student. 2022 is the first year Ampol has awarded additional prizes to recognise one best all-rounder in each state and one overall student as Australia's best.
Ampol Managing Director and CEO, Matt Halliday said the company is proud to again celebrate the achievements of Australia's emerging leaders in the classroom, on the sporting field, with arts and culture and across the community.
"The Best All Rounder award is our longest ongoing community program and forms part of our commitment to supporting communities across the country. We are proud to be able to recognise the outstanding achievement of all our winners, in particular our first ever national winner, Aaliah Dennison. Everyone at Ampol wishes to congratulate Aaliah for this well-deserved recognition."
Aaliah is a budding Australian Rules Football umpire and was recently selected in the AFL's Women in Umpiring National Mentorship Program and National Indigenous Kickstart Programs.
The 2021 Latrobe Council Young Citizen of the Year is also an accomplished national competitor in gymnastics and academically is anticipating a top 10 per cent finish nationally in her upcoming Year 12 exams.
As part of her recognition, Aaliah has won a laptop, a $5000 cash grant and a $1000 AmpolCash gift card, in addition to a $5000 grant for Don College.
Don College Principal John Thompson said the award was deserved recognition of Aaliah's achievements.
"Aaliah is willing to grab every opportunity and challenge herself in all of her arts, sport, cultural activities and academic pursuits, all of which she has excelled at a local, state and national level.
"Aaliah has turned her recent challenges into opportunities, expanded her network and maintained a heavy schedule and all the while still made time for her adoring families and friends.
"Everyone at Don College would like to thank Ampol for awarding the very well-deserving Aaliah with this prestigious honour of the inaugural national prize winner of the Best All Rounder award."
Throughout November and December, Ampol has named the inaugural state winners of the Ampol Best All Rounder Award. The winning state recipients received a $2000 cash grant and a $1000 AmpolCash gift card, in addition to a $2000 grant for their respective school.
The 2022 Ampol Best All Rounder Award state winners are:
Australian Capital Territory:

James Etherington, Lyneham High School, Canberra

New South Wales:

Amber Cunningham, Bulahdelah Central School

Queensland:

Tyler Skinner, Rockhampton State High School

South Australia:

Elliana Lock, Emmaus Christian College, Adelaide

Victoria:

Jesse McDougall, Kardinia International College, Geelong

Western Australia:

Amy Kerr, Georgiana Molloy Anglican School, Busselton
The Best All Rounder Award is Ampol's longest running community program. Since 1985 over 30,000 young Australians have been recognised in high schools across the country as their school's best all-rounder.
The program now forms part of Ampol's broader focus on education through its community partnerships. Other organisations supported through the Ampol Foundation include The Smith Family, Clontarf Foundation and Stars Foundation.
Media contact: