Mirvac and Ampol Partner up for First AmpCharge Destination Fast Chargers
Mirvac and Ampol Partner up for First AmpCharge Destination Fast Chargers
Sydney – Thursday 29 June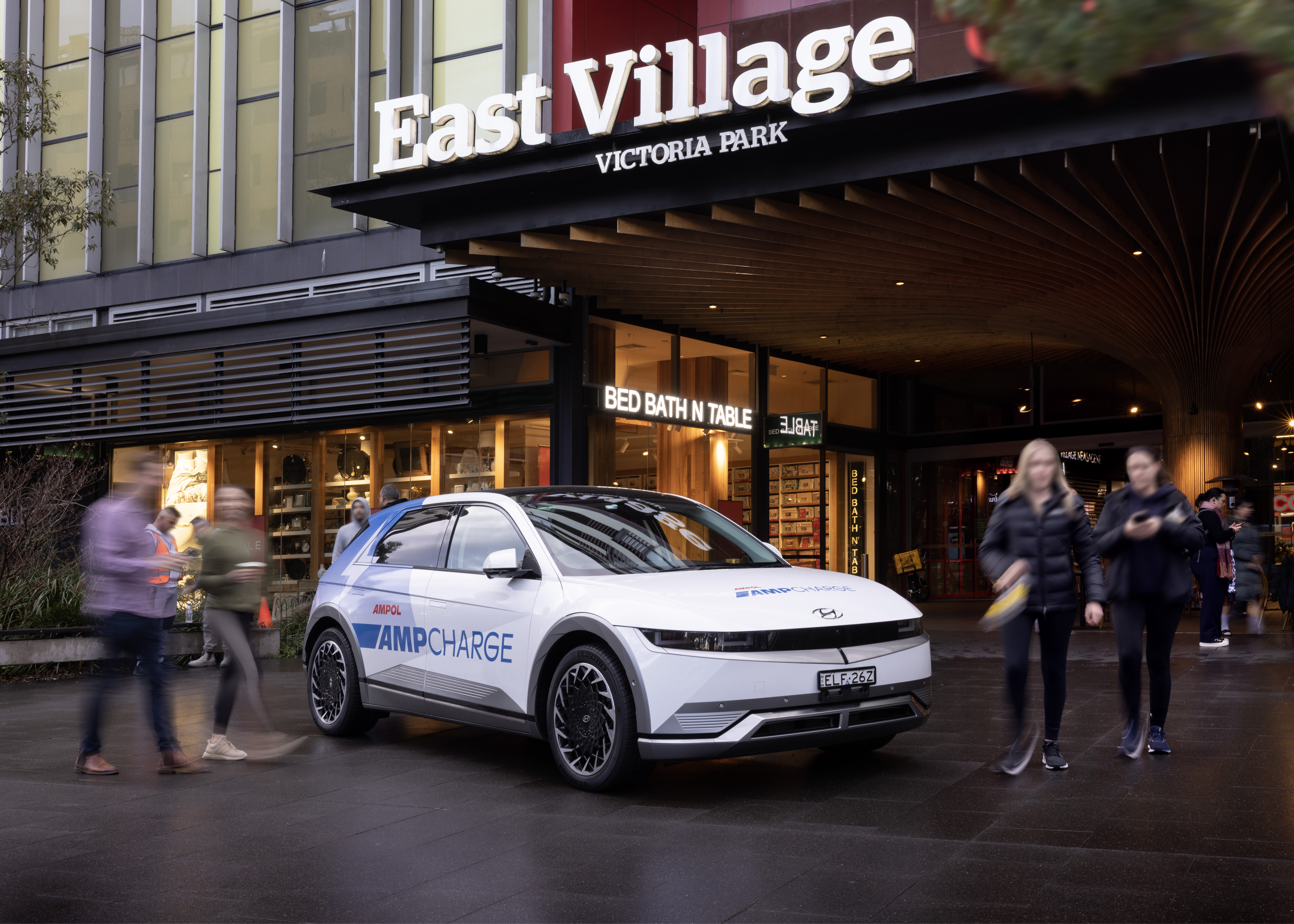 Mirvac and Ampol have partnered on an important sustainability initiative that will see Ampol install its first AmpCharge electric vehicle charging bays outside of its service stations, throughout Mirvac's retail portfolio, with the first installation to take place in late-2023. Paving the way for other shopping centres, the Ampol AmpCharge bays will provide millions of customers with greater access to best-in-class EV charging infrastructure.

Mirvac first rolled out EV charging services for customers six years ago and this partnership with Ampol will more than double the number of charging bays across the property group's retail destinations, including Broadway Sydney, South Eveleigh and Orion Springfield Central, offering a range of customer charging options.

Mirvac Retail General Manager Kelly Miller said: "Since launching fast charges, Mirvac has seen a significant rise in usage of charging stations across the portfolio, with a 60% increase in customer utilisation in the past year.

"Mirvac's partnership with Ampol represents a significant milestone in electrification with two major Australian companies coming together to drive the use of more sustainable vehicles. We recognise it is our responsibility to provide our customers with more sustainable solutions and convenient access to green innovation."

Mirvac Retail was the first Australian shopping centre portfolio to procure 100% renewable electricity across its shopping centres in January 2021 and this latest announcement is another step to the company realising its goal to be carbon net positive in scope 3 emissions by 2030, with the company reaching its Scope 1 and 2 emissions target in 2021, nine years ahead of schedule.

Ampol Executive General Manager, International and New Business, Brent Merrick, said: "Ampol continues to build its AmpCharge network so customers can charge with us wherever and whenever they need. This partnership with Mirvac will allow us to expand our offer beyond the forecourt to destinations like Mirvac's leading property network. We look forward to commencing roll-out of this infrastructure over the coming months."

This agreement will form part of Ampol's initial commitment to deliver over 300 AmpCharge EV charging bays at more than 100 sites across Australia. The energy used by AmpCharge EV chargers will be 100% offset by Large Scale Generation Certificates (LGCs) to net the equivalent electricity consumption.

About Mirvac:
Founded in 1972, Mirvac has been making a positive contribution to our cities and the urban landscape for 50 years, through our connected communities, exceptional workplaces and thriving shopping centres. We are an Australian Securities Exchange (ASX) top 50 company, met our target to be net positive in scope 1 and 2 carbon emissions nine years early in 2021, and in 2023, we were ranked number one in the world for gender equality by Equileap, for an historic second consecutive year. Our purpose, to Reimagine Urban Life, inspires us to be innovative and bold, as we continue to create and curate extraordinary places and experiences that enrich people's lives.
About Ampol:
Ampol is an independent Australian company and supply the country's largest branded petrol and convenience network, as well as refining, importing and marketing fuels and lubricants. Ampol also recently launched its electric vehicle charging and home electricity solutions to ensure its customers evolving energy needs are met. Ampol has a deep history spanning over 120 years, having grown to become Australia's largest transport fuels and energy provider.
Media contact: