Ampol to Raise Funds for Surf Life Saving Australia This November
Ampol to Raise Funds for Surf Life Saving Australia This November
Ampol to Raise Funds for Surf Life Saving Australia This November
Gold Coast – Thursday 26 October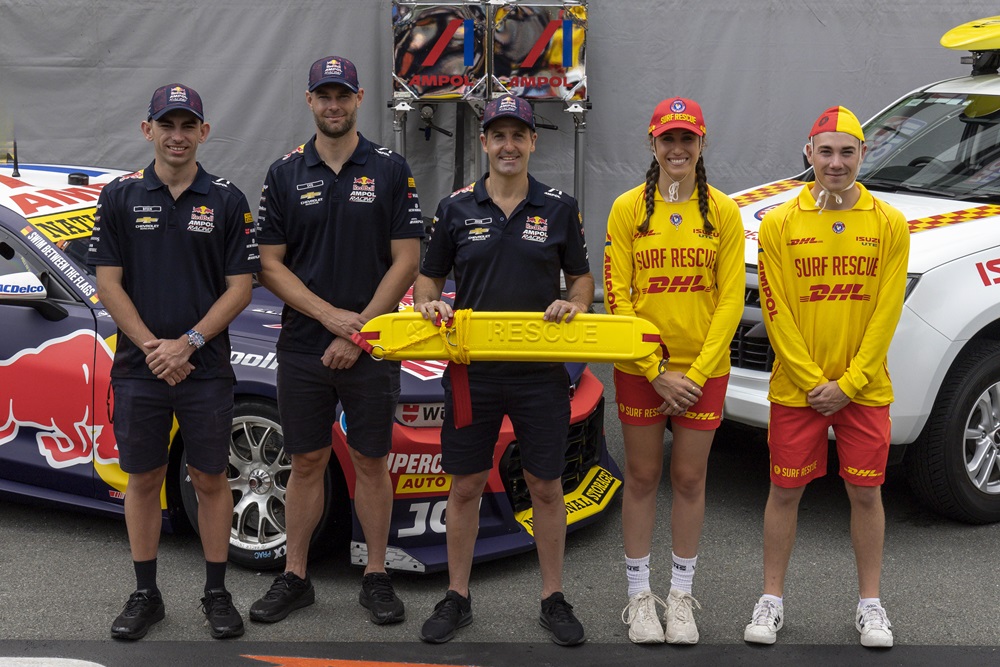 Ampol, in partnership with Red Bull Ampol Racing, today announced that it will raise funds for Surf Life Saving Australia (SLSA) through its national retail network this November.
To celebrate the partnership, Red Bull Ampol Racing unveiled a special beach safety message which will be displayed on both #88 and #97 Chevrolet Camaro Supercars at this weekend's Gold Coast 500.
In its third year, the annual fundraising campaign with SLSA aims to raise money to support water safety and is driven by Ampol's initiative to create positive contributions to Australian communities.
All monies raised will go directly to SLSA and ensure continued funding for vital upgrades and replacement of lifesaving equipment, training for volunteer surf lifesavers and public water safety education.
Ampol Chief Brand Officer Jenny O'Regan said Ampol was thrilled to continue its partnership with SLSA and give back to a valued and important part of the Australian community.
"Thanks to the generosity of our customers and suppliers, we are proud to be able to raise funds for our national community partner, SLSA, and help promote their important work across the country," O'Regan said.
"Surf lifesavers work incredibly hard to educate the public and keep Australians safe on our beaches, so we couldn't be prouder to put our support behind them as we head into summer."
SLSA Head of Fundraising and Commercial John Brennan OAM said that the support of major national partners like Ampol was important for the longevity of community programs like SLSA.
"Funds raised by Ampol last year enabled us to purchase much-needed equipment to save lives on Australian beaches and throughout communities. Our rescue gear and equipment are constantly exposed to harsh coastal conditions, so funds raised by Ampol this year will once again help us to maintain this vital equipment," Weir said.
"Volunteer surf lifesavers give up their own time to support the community, so we believe this is an important initiative to show support and give back."
On ground ahead of this weekend's Supercars race on the Gold Coast, Red Bull Ampol Racing's Broc Feeney was excited to support an initiative so close to home.
"Growing up on the Gold Coast, I've been able to enjoy our beaches safely thanks to our volunteer surf lifesavers, so it's humbling to be able to proudly display a beach safety message on our cars and be part of this fundraising campaign," Feeney said.
With thanks to our generous supply partners, from 1 November 2023 to 5 December 2023, 10 cents from every purchase of Life Saver Rolls and Lolly Bags (34-200g), Kettle (60-90g), Oak Flavoured Milk (600mL), Frosty Fruit Stack (70ml) and Mars Large Bar (64g) sold at participating Ampol Foodary stores will go to Surf Life Saving. $1 from all Aerial sunglasses sold will also be donated to Surf Life Saving. Customers can make a donation of their choice to SLSA at the register or online.
About Surf Life Saving Australia:
Surf Life Saving Australia is Australia's peak coastal water safety, drowning prevention and rescue authority. More than 715,000 people have been rescued by surf lifesavers since it was founded in 1907. With over 190,000 members and 315 affiliated Surf Life Saving clubs, Surf Life Saving Australia represents the largest volunteer movement of its kind in the world. The national organisation is a unique not-for-profit community cause that exists through community donations, fundraising, corporate sponsorship and government grants.
Media contact: