Red Bull Ampol Racing to hit the track in 2021
Red Bull Ampol Racing to hit the track in 2021
Red Bull Ampol Racing to hit the track in 2021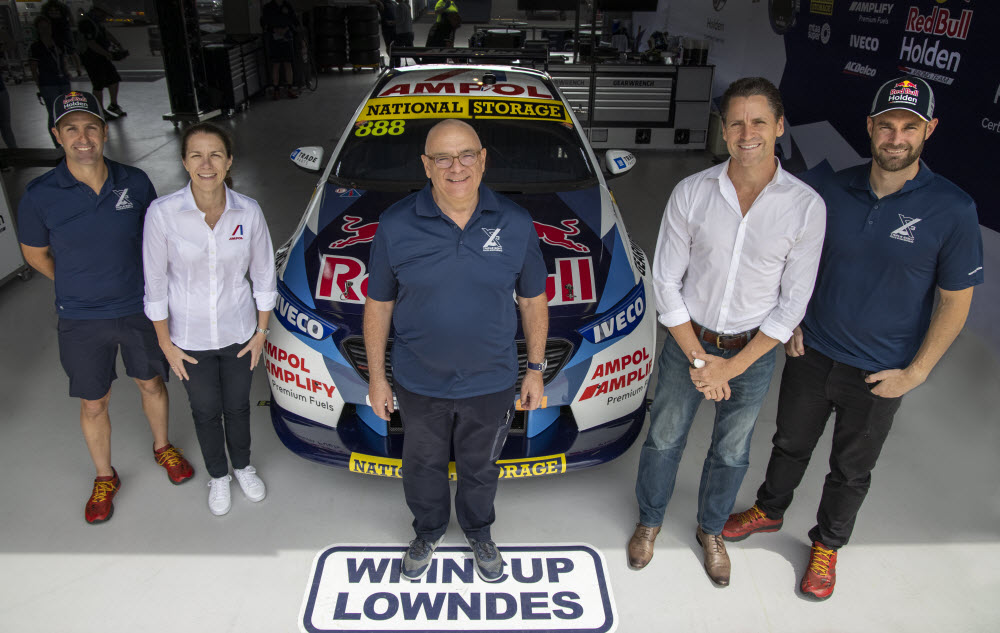 Triple Eight Race Engineering is pleased to announce that iconic Australian fuel brand, Ampol, has expanded their partnership with the team to become co-naming rights sponsor alongside Red Bull.
Ampol will join Red Bull as co-title partner of the team, which will see Red Bull Ampol Racing take to the grid for the 2021 Supercars Championship season.
The Ampol brand will feature predominantly on the team's two Holden ZB Commodores, driven by seven-time Supercars Champion Jamie Whincup, and 2020 Bathurst 1000 winner Shane van Gisbergen.
Ampol (formerly Caltex Australia) is Triple Eight's longest standing partner, having joined the team in 2005 and played a significant supporting role in every single championship success. Ampol joins Red Bull who entered the series with Triple Eight in 2013 as naming rights partner, together claiming four Drivers' Championships and five Teams' titles.
The partnership with Red Bull Ampol Racing brings to life Ampol's commitment to delivering the world's best fuels technologies and high performance for all customers.
The expanded partnership will allow Ampol and Red Bull to continue their extremely strong relationship through consumer activations, with past activations such as 'Join the Crew' and 'Red Bull Racing Line' surpassing KPI targets for both businesses.
The whole team at Triple Eight welcomes the increased commitment from Ampol, and is committed to delivering the best possible results, both on and off the track.
Red Bull Ampol Racing will officially launch the new-look team and fresh liveries at the beginning of 2021.
Roland Dane, Triple Eight Race Engineering, Team Owner
"The entire team at Triple Eight are thrilled to welcome Ampol as co-title sponsor for the next two years, joining Red Bull Australia to bring Red Bull Ampol Racing to the Supercars grid in 2021. Our relationship with Ampol began back in 2005, and they've been exceptional partners of our team, sharing eight Bathurst 1000 wins, eight Drivers' Championship wins, and nine Teams' Championship wins over this period. It's not Ampol's first time as a naming rights partner with us, having run TeamVortex in 2016 and 2017, and we've greatly enjoyed their passion for motorsport every step of the way. The relationship between Ampol and Red Bull is already well established and we're very fortunate to have been able to play a part in their mutual success over the years, which will hopefully only go from strength to strength with Red Bull Ampol Racing. We're looking forward to showing the fans the brand new look early next year."
Miles Wilson, Red Bull Australia, Managing Director
"We are excited to continue our nine-year partnership with Triple Eight and welcome Ampol to the team with great anticipation for what will be a strong 2021 season. Our partnership with Ampol on and off the track over the years has always focused on driving value for our brand and consumers, this is another great example of that partnership. We are thrilled to continue this relationship as co-title partners at Red Bull Ampol Racing".
Joanne Taylor, Ampol Australia, Executive General Manager Retail, Brand and Culture;
"As Australia's outright leader in transport fuels, we have had strong presence in Australian motorsport for over 60 years and we can't wait to see the Ampol brand return as a naming rights sponsor in Australian motorsport in 2021. Ampol's knowledge and experience in fuel technology and global sourcing is unparalleled in the Australian market and the partnership with the Triple Eight team captures and celebrates our continued commitment to deliver the world's best fuels technologies and high performance for all customers. Our long standing connection to motorsport and its fans is a testament to our brands values and overall commitment to Australian sport, we want to continue fostering the connection between our brand and fans, and we look forward to continuing our strong relationship with co-title partner Red Bull as we leverage the racing team partnership for joint promotions and consumer activations."