Managing Global Supply Chain Disruptions
Managing global supply chain disruptions
By Brent Merrick, Executive General Manager, International and New Business
The human tragedy unfolding in Ukraine has had a significant impact on supply chains globally. Coupled with tightening oil markets and increasing demand and consumption of transport fuels globally as economies recover from COVID-19, we have seen increased prices, uncertainty, and disruption.
Ampol's established trading, shipping, supply and on-shore logistics capabilities and leading infrastructure position across Australia continue to ensure we are on the front foot to manage these challenges.
Global sanctions and domestic prices
Ampol condemns Russia's actions in Ukraine and supports the steps being taken internationally against Russia in support of Ukraine and its people. Since the conflict commenced, Ampol has not purchased Russian crude oil or products and is conducting comprehensive due diligence to ensure that we do not purchase products of Russian origin.
It is important to remember that the Australian transport energy market is not reliant on Russian oil. Our refinery at Lytton uses crude oil largely sourced from Australia, New Zealand, south-east Asia, Africa, and North America. Russian crude has made up less than 1% of our total crude purchases over the past five years and product supply chains in Australia also typically operate without any Russian origin oil products.
Despite this, geopolitical events and international sanctions have exacerbated supply pressures. Supply chains in many countries have been restructured as sanctions have been introduced to reduce reliance on Russian produced energy in the medium-term. This has pushed oil benchmark prices towards new highs and has driven increases in wholesale and retail fuel prices in Australia.
High prices do not mean that key markets and supply chains are not able to be supplied. We continue to manage our diverse supply chains in a consistent and efficient way and our lead times for product deliveries to major markets have so far remained on track. While it is impossible to predict the trajectory of global oil prices moving forward, we expect volatility to remain as the world rebalances centres of supply and demand.
Domestically, the government's focus on cost of living through the recently announced changes to fuel excise will help support lower prices for customers.

Building capability to manage disruption
Our response to recent global events has been underpinned by the expertise of our trading and shipping team, based in Singapore and the United States. These capabilities play a key role in our success, sourcing and managing the distribution of petroleum products from global markets that allow us to meet the needs of our customers in Australia, New Zealand, Philippines and in other international markets.
Our sourcing capabilities and geographic reach have significantly expanded in recent years. International volumes grew to 9 billion litres in 2021, we now source products from 20 countries and we sell volume to customers in 16 countries globally.
This growth has been supported by new storage positions in multiple locations in key markets to ensure supply chain flexibility. We also established a new trading office in Houston, USA in 2021 to build new relationships with producers, access new markets and extend hours of operation.
Responding to recent global events
These capabilities and reach have helped us manage price volatility and supply disruption in several ways over the last few months.

First, our relationships with producers in the United States have improved sourcing optionality and diversified our supply chain. We have seen increased US crude cargoes in our Lytton refinery supply chain over the last 12 months and we expect this will continue to grow.

Second, regular engagement with key market participants provided important early insights on likely impacts of international sanctions and the rebalancing of supply chains globally. These briefings have helped us plan and make informed decisions on our forward supply chains which have remained resilient.

Third, we made the early decision to access gasoline product in our existing storage positions in Singapore as the situation in Ukraine deteriorated. This allowed us flexibility to manage short-term supply needs as we assessed the evolving situation.

Finally, our scale continues to be a strength as we work with our key trading partners. Ampol delivered total fuel sales of over 22 billion litres in 2021 and our proposed acquisition of Z Energy in New Zealand would further increase scale in our global supply chain.

Scale has allowed us to develop strong and long-term commercial relationships with major global producers and, as we reinforce our position as a leading regional player, these relationships will solidify to ensure we can continue to access crude and product in the global market.

Recent events in Ukraine are challenging and confronting, with a terrible human cost. Oil prices will remain highly volatile as supply chains are restructured with different decisions being made across the globe. Ampol will continue to leverage our capabilities and infrastructure to ensure ongoing safe and reliable supply to our customers.
About the Author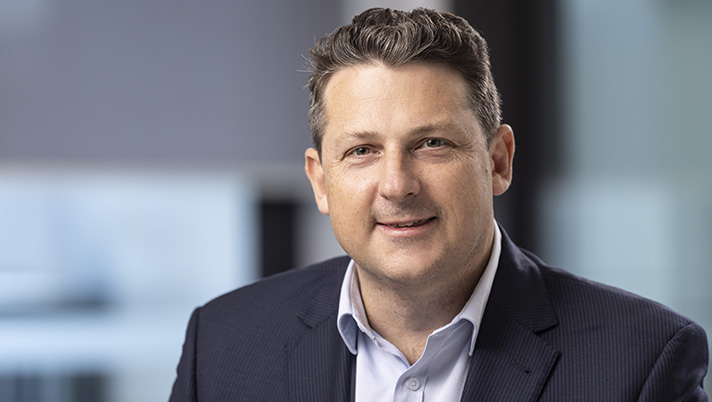 Brent Merrick
Executive General Manager, International and New Business
Brent Merrick was appointed Executive General Manager, International and New Business in September 2020. Brent is responsible for trading and shipping, international growth and other new business, including building the future energy business to enable low carbon solutions for our customers.