Highway Redevelopment Strategy Launched as Ampol Pheasants Nest Officially Opened
Highway Redevelopment Strategy Launched as Ampol Pheasants Nest Officially Opened
Highway Redevelopment Strategy Launched As Ampol Pheasants Nest Officially Opened
Pheasants Nest – Friday 27 October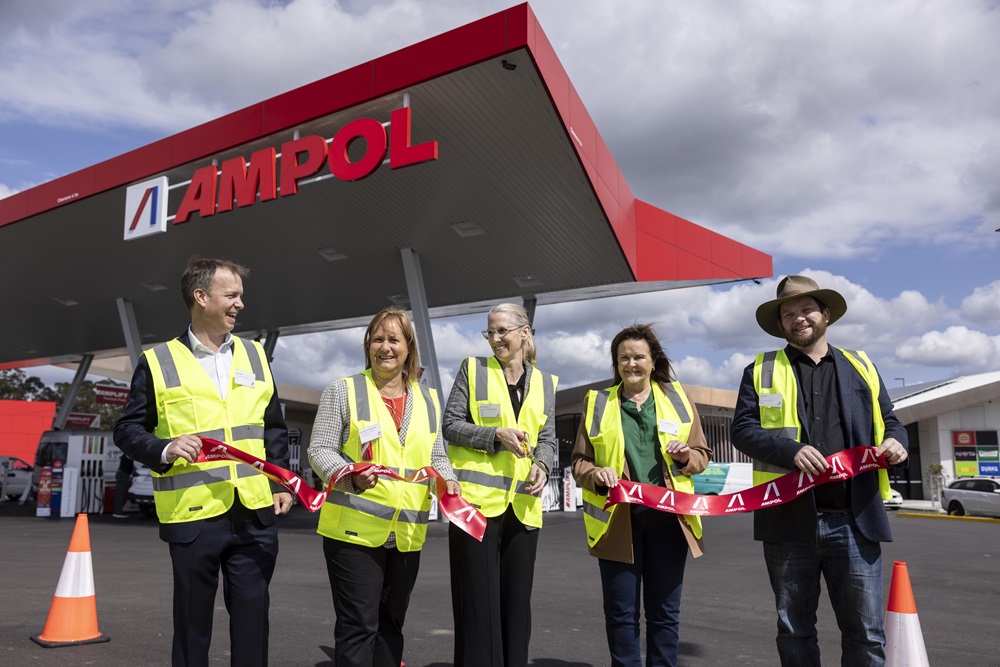 Ampol has unveiled plans to redevelop additional highway sites following the grand opening of its flagship Pheasants Nest Service Centres on the Hume Highway in New South Wales.
The highway redevelopment strategy is part of Ampol's five-year plan to invest in world class highway service centres along key commuter routes across Australia.
The newly developed Pheasants Nest sites include a large food court area with both indoor and outdoor dining areas, children's play areas, truck driver amenities, separate fuel and diesel canopies, outdoor spaces to refresh, dedicated caravan and coach parking spaces and a fresh convenience offer to help meet the needs of commuters and local customers on both sides of the highway.
In addition to Ampol Foodary, Hungry Jack's, Oporto, Oliver's, Krispy Kreme, Boost Juice and Durk's Café is now available at Pheasants Nest.
The Pheasants Nest sites also house first-of-its-kind AmpCharge electric vehicle charging hubs, with 12 charging bays across the two sites providing up to 300kW of power to serve EV drivers, as part of Ampol's national commitment to install over 300 charging bays by the end of 2024.
"At every Ampol site we're striving to make our customers' time with us more efficient, comfortable and convenient," Executive General Manager, Retail Australia, Kate Thomson said.
"Our highway redevelopment strategy is part of our mission to power better journeys, where all drivers and their passengers are able to refuel and re-energise in the comfort of our modernised facilities.
"Our redeveloped highway sites will also set a new standard in comfort, retail convenience and wellbeing for long-haul drivers.
"We have taken a sustainable approach to our strategy through low carbon design and construction including the installation of renewable solar energy generation and storage and water sensitive urban design with the use of native plants and grey water reuse.
"The Pheasants Nest sites are strategically located for commuter and long-distance traffic on one of Australia's significant national highways, an important stop on the busy route between Sydney, Canberra and Melbourne."
Further highway development announcements, including the twin M1 sites at Wyong, New South Wales, will be announced over the coming months.
Pictured (L-R): Ampol CEO and Managing Director, Matthew Halliday; Member for Wollondilly, Judith Hannan; Ampol Executive General Manager, Retail Australia Kate Thomson; Parliamentary Secretary for Roads and Member for Shellharbour, Anna Watson and Mayor of Wollondilly Shire Council, Matt Gould.
Media contact: